Email Marketing is a relatively simple strategy that allows you to deliver personalized messages to a highly targeted audience run through some of the best data analytics tools available.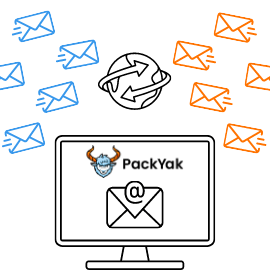 Email Marketing Will Increase Your eCommerce Sales
Online retail is a competitive space, as you know, fellow eCommerce store owner. As an entrepreneurial eCom superstar, you are always researching new ways to market your online products better and therefore increase sales. So you well know there are hundreds if not thousands of different marketing strategies you can employ to try and reach new customers or re-target those buyers that abandoned their cart.
"The Average Return On Investment For An Email Marketing Campaign Is 4,200%"
One online marketing strategy that has been around the longest remains one of the most powerful: Email Marketing. There is no question that this tried and true marketing strategy works if done right. And if your Email marketing strategy for your online store is done right, then you are able to get incredible results when considering the relatively low cost.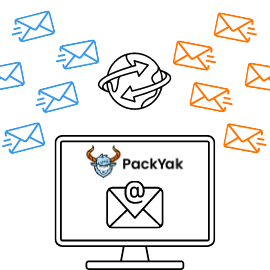 Email Marketing is a relatively simple strategy that allows you to deliver personalized messages to a highly targeted audience run through some of the best data analytics tools available. Did you know that a simple welcome email can boost user engagement by up to 500%? This stat alone shows that a planned out email marketing strategy for your eCommerce store is an absolute must.
Effectiveness of Email Marketing for eCommerce Stores
Numbers often speak louder than words, so let's take a look at some more statistics related to email marketing for online storefronts:
Over 60% of consumers prefer to be contacted by brands via email.
‍
Over 50% of the top 1,000 online retailers in the United States send welcome emails to customers. And those welcome emails boost engagement up to 500%.
Email marketing accounts for 20% of total traffic that drives eCommerce sales.
‍
The average ROI on a typical email marketing campaign is 4,200%. That's $42 for every $1 spent. Stonks 📈
‍
More than 55% of consumers claim they have made a purchase due to email marketing.
There's really no question that email marketing can and will boost your sales. Having a specific strategy for how and when you send those marketing emails is the next step on your way to achieving eCommerce greatness for your online store.
‍
The Most Important Elements of Email Marketing for eCommerce
Now that I have thoroughly assaulted you with statistics about how important email marketing is for your eCommerce store, let's talk about which elements to really focus on when drafting that masterful email that will go out to your leads. First things first, let's talk about the timing of your email blasts. Generally speaking, the best day of the week to send a marketing email is Tuesday, while the best time of day to send an email is 10 am.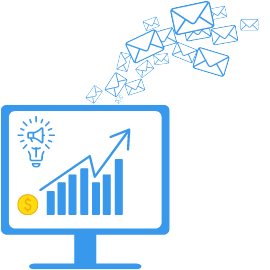 While timing will certainly differ depending on your eCommerce store's target demographic, it is important to note that there is data out there that can tell you when the best time to send your re-targeting marketing email to consumers. I encourage you to research this as it relates to your specific market, because timing really can make all of the difference here. One thing is for certain as it relates to timing your marketing emails: an email sent soon after a cart is abandoned in your online store will drastically increase your sales, especially if you offer a discount (For more information about this you can continue reading on PackYak's blogs here).
"Abandonment Cart Emails Have An Open Rate Of 40% With A Click-Through Rate Of Almost 29%"
Next, personalization is key. Personalized emails have a nearly 19% open rate, well above a non-personalized email. Beyond utilizing the standard email marketing tool and inserting the online consumer's name into the email, you can go one step further to ask how a user experienced a certain aspect of your website to let them know you are working to improve their individual experience. This kind of online shopper engagement goes a long way towards driving more sales for your eCommerce store. People love to feel like they're being specifically catered to – and if you can make them feel that they are – you're one step closer to a sale.
Last but not least, the subject of your emails is one of the single most important aspects of any marketing email you send to online consumers. In fact, nearly 50% of eCommerce consumers open an email based on the content of the subject line alone. First impressions really do matter here, so you better make it catchy! In addition to being catchy, keeping the subject concise is important as well. And if you can add some humor, urgency, or some attention grabbing numbers, you're doing great things with your subject line that is bound to catch an online shopper's attention. Additionally, keeping your most powerful keywords at the front is important so that you can snag your target audience's attention. Lastly, making your marketing email's subject line into a thought provoking question is one of the most potent ways to capture a potential online consumer's attention.
"50% Of ECommerce Consumers Open An Email Based On The Content Of The Subject Line Alone."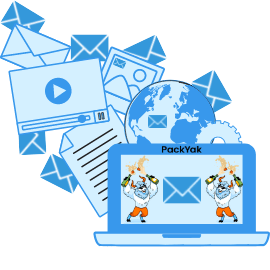 Growing your eCommerce Business with Email Marketing
Hopefully this article has given you a better picture of just how powerful the right email marketing campaign can be for your eCommerce store. If you focus on putting an email marketing campaign into place utilizing these tips, we're certain that you'll be increasing your sales and growing your Shopify, BigCommerce, or Etsy store beyond your wildest dreams! And when you do grow your eCommerce store to the point that you have too many orders to handle all the aspects of your eCommerce business on your own, contact PackYak! Packyak is an eCommerce-focused fulfillment company which can help free up your time and take order fulfillment off of your plate completely – it's a no-string-attached partnership! For a free quote or more blogs check out www.Packyak.com.